It was good to see Annie playing
with her toys today. This is the first time I noticed her being playful since
Lily
died. The sun was shining through the windows and leaving sun-puddles in every room for the cats. I think, that alone, cheered her up and gave her more energy.
She took advantage of a puddle soon after she wore herself out.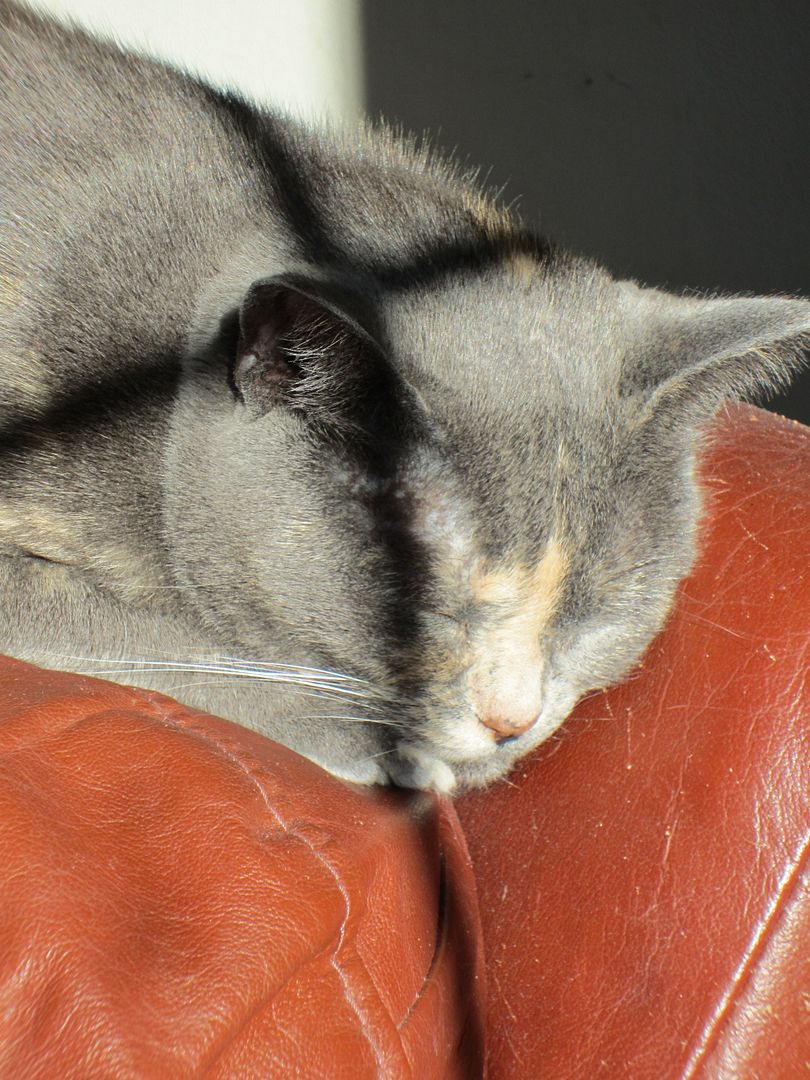 I just love that little peachy nose.
I have been spending a lot more time with
Annie
the last few days.
She is loving the extra attention. I gave her a massage today and she slept for hours after. Not that that is anything odd for a cat. haha!
I've been alone for a few days so I baked up more apple-sauce oatmeal cookies; some for me and some for the freezer.
Nothing goes better with a hot cup of tea.
Packing is a great way to come across some items you have not seen for awhile. These were always my favorite little bread plates.
This time I packed them away in the bin marked
'kitchen'
so I'll be sure to unpack them and use them more often at the mouse house.
The little pottery mug was a find at our local thrift shop.
I can never have too many pottery mugs.
They are all
pieces of art
to me.
"Oh, Mr. Sunshine you are so welcomed today.
Annie
& I hope to see more of you this week."
The electrician finished up at our property today. It was a cold day but he didn't seem to mind working outside a bit. We finally got our indoor lights, garage lights and motion detectors up.
"Thank you very much."
Now if we could just find our 'ever-elusive inspector' for the last inspection.
I'm joining
Share Your Cup Thursday
at
http://jannolson.blogspot.ca/
Stay toasty,
Deb