I have been looking out the back window of the mouse-house and visualizing a scarecrow where the perennials were so today was the day to build him.
It didn't take long. Less than an hour.
Stuff those pants.
The hat once belonged to my father.
He'd have a laugh at this.
Is a nose required?
He was fun to build and...
he's a chunky fella.
Now I need one of my resident crows to sit on his arm to finish the look.
And since they aren't usually very co-operative, I will start looking for a fake one.
I named him
Sid
and now I look forward to the grandittles meeting him.
October
by Robert Frost
O hushed October morning mild,
Thy leaves have ripened to the fall;
Tomorrow's wind, if it be wild,
Should waste them all.
The crows above the forest call;
Tomorrow they may form and go.
O hushed October morning mild,
Begin the hours of this day slow.
Make the day seem to us less brief.
Hearts not averse to being beguiled,
Beguile us in the way you know.
Release one leaf at break of day;
At noon release another leaf;
One from our trees, one far away.
Retard
the sun with gentle mist;
Enchant the land with amethyst.
Slow, slow!
For the grapes' sake, if they were all,
Whose leaves already are burnt with frost,
Whose clustered fruit must else be lost—
For the grapes' sake along the wall.
As the autumn settles in the leaves are changing fast. Is there anything more beautiful than the brilliant colours of the maple tree?
Well. how about this...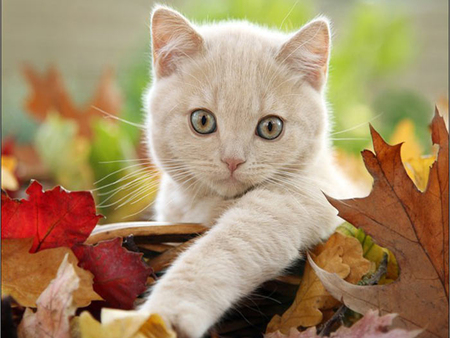 Cats in Autumn
I'm joining Share Your Cup at http://jannolson.blogspot.ca/
hugs, Deb