Kane and I
headed out for a walk after I finished my rounds.
As you can see we still have snow and the wind was cold today. It was dark, damp, dirty and uneventful. Even Kane seemed rather 'blah!' today. I turned a corner and there was a
sweet little calico
in a window. She looked like something from a Victorian magazine. Cats and lace always fit together. She was bored but seeing Kane perked her up and her eyes widened. She instantly snapped me out of my coma and lifted my spirits. I couldn't let that pass by so I snapped her picture.
"Thank you
Calico-kitty.
You brightened up our walk today".
There are two types of
Calico kitties.
There is the
Vibrant Calico
which has dark orange, black and white hair and the
pastel Calico
which has light peach, grey and white hair.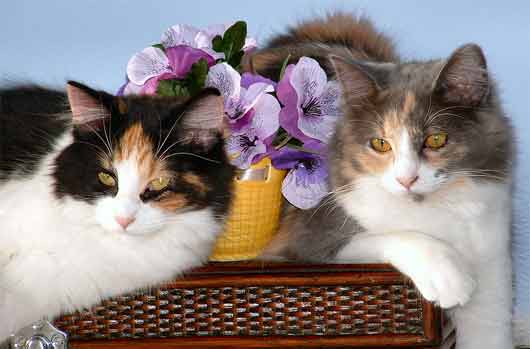 Both are fiesty & have lots of cat-itude.
Hugs, Deb